I am disappointed with the name the people have chosen to call their country.

Apsny.

It sounds to me like some kind of gelatinous substance which might be produced by a particularly severe throat infection and then unceremoniously hacked up in a violent coughing fit.

For once, English has the good sense to use a more exciting, exotic-sounding name:

Abkhazia.

For a people blessed with a beautiful language renowned for its onslaught of consonants in unimaginably complex clusters, I can't help but feel the Abkhaz did not reach their full potential when naming their country.
Friends of mine have blazed the trail before me.

Abkhazia, while a recent warzone and an unrecognised state to which the British Foreign Office advises against all travel (under any circumstances), is not virgin territory among my cohort of intrepid friends.

Thousands of Russians and a sprinkling of westerners have preceded us.

We are not explorers, just tourists.

We are on holiday- a chance to kick back, relax, and enjoy the scenery without worrying about work, bills and other mundane matters.

While sitting in the charming Cafe Lika in central Sukhumi, Lika herself brings over the visitor's book and proudly points at the only English-language entry.

Apparently the previous foreign visitors found Lika's hospitality and great cooking a relief after having been detained for 18 hours by the Abkhaz police.

We hope we don't suffer a similar fate in this lawless non-country where we have no diplomatic representation.

After all, we are tourists.

Trouble and excitement are far from our minds.

We just want a relaxing holiday.
My original intention had been a long weekend at a pleasant, rustic hostel in the Tatra Mountains of Slovakia.

A bit of walking in the pine forests, a trip on a cable car, maybe a tour of Krakow.

I ask my friend W if she would like to come along.

She suggests Georgia, trusting me to take us somewhere 'suitably dangerous, with delicious food.'

So, my relaxing long weekend in Eastern Europe turns into a two week jaunt around the Caucasus.

Not that I'm complaining – like all sensible people, I have wanted to visit Georgia since I first discovered its existence.

And the food is certainly delicious.

It seems rude to visit but not to venture into Abkhazia, former warzone now Russian beach holiday paradise.

Getting in is now just a matter of applying for a visa and paying $20 – easy.

So it is that we emerge from an overheated, urine-scented train at Zugdidi as dawn is breaking, eager to find a taxi driver to take us to 'the border.'

Ben Scott at Zugdidi
But of course, it's not really a 'border,' because to call it a 'border' would confer legitimacy on the brutal, evil and totally illegal Abkhaz government- really just a bunch of criminals lording it over an integral part of Georgia.

In a hushed and needlessly urgent tone, I ask the taxi driver if he's willing to take us 'to the river; to Ingur.'

Nudge, nudge, wink wink.

'To the border?' he asks, motioning for us to get in.
The 'border' is closed when we get there, the Georgian police officers sleeping in their hut.

I decide it probably wouldn't go down to well to wake them up in order to ask permission to leave Georgian-Georgia and cross over the river to the part of their country which is presently and inconveniently occupied by Russian soldiers.

So we sit in the sunshine watching the pigs, and wait.

After a while, there are signs of movement, visits to the privy and shower and then, finally, signs that the working day is to begin.

The Georgian policeman on duty doesn't look thrilled to see us there, but we are not the first westerners to have passed through, and as Abkhazia is still legally part of Georgia he can't block our passage.

With an air of resignation, he takes our details and asks where we plan to travel.

An impassioned, frustrated speech about the unfairness of it all – how foreigners such as us can travel freely whereas he is trapped, unable to cross the river to see what lies on the other side.

We sympathise, and offer weak platitudes that maybe better times await in the future.

Then, trying not to skip with joy, we head for the border and the other side.

It begins to drizzle, as we sit in the back of a clapped-out horse-drawn cart, wending our way past puddle-filled potholes and past hunchbacked refugees cloaked in black.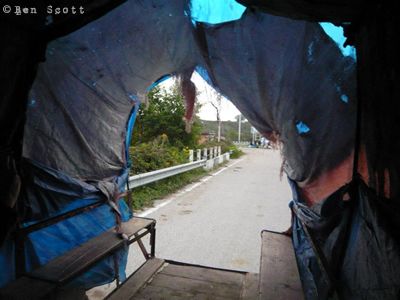 Crossing the 'border'
Our driver sings a mournful song and salutes the young Georgian soldier guarding the free world against the Russian enemy.

We stop at a gate – Russian soldiers eyeing us on the other side while harassing ethnic Georgian refugees.

It all looks a bit forbidding and ominous.

Not like a holiday place.

Even the uniforms look scary – no smart police-style outfits now, just fatigues and what are, I suspect, Kalashnikovs.

We have crossed the edge of the known world of diplomatic protection and European human rights laws, and have entered a new space.
Our stay in Abkhazia is relatively uneventful.

There are no wars, arrests, or ethnic cleansing.

There are also no non-Russian tourists, and certainly no other Asian faces besides W's.

The Minister of Foreign Affair's taxi-driving brother-in-law rips us off and then drives off with our luggage in the back to pick up another fare.

We wonder if we'll ever see our bags again, but eventually he returns.

We stay at Amra's dilapidated apartment in the Sukhumi suburbs.

She is nice enough, but desperate to sell me a pair of fake Levis and a huge jar of honey.

Unfortunately, space is at a premium in my bags, so I decline the offer.

We only hear gunshots outside her apartment once, but she warns me that Sukhumi nights bring dangers for people like us, and insists we are home before dark.

We meet the Minister of Foreign Affair's mother on a bus to Gagra.

She stares at W for a long time, before enquiring politely where we are from.

A man in Sukhumi approaches W while brandishing some Uzbek money, asking her to ascertain the value of 'her people's money' in Roubles.

A member of the militsia stares at us and then descends into a deep bow.

'Welcome,' he says.

One man speeds past us as we approach a zebra crossing, gawping out the window as he passes.

The next we hear is the slamming of the brakes and him screeching up the road in reverse.

He reverses past us and then lowers the window, graciously beckoning for us to cross the road.

We suspect that the sight of British and Malaysian tourists lugging backpacks around Sukhumi is not one he often sees.

We meet a few nice people and many nice cats. We visit the Research Centre where monkeys are kept in pitiful conditions, and buy fruit to thrust into their sad, begging hands.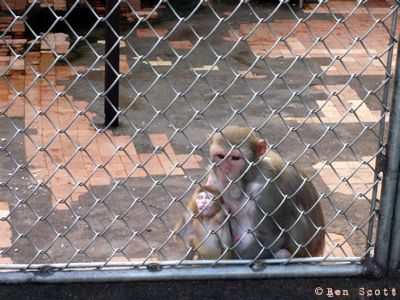 This is a scientific institute where, during better times, monkeys were trained to be Cosmonauts of the Soviet Union.

I do not suspect that Abkhazia has any plan for simian space travel soon, given the dilapidated ruins which scatter the institute and the sorry state of their inhabitants.
We sunbathe on the stones at Gagra beach, and I brave a swim in the surprisingly warm November sea.

A gelatinous substance coats my foot and I decide to leave the water.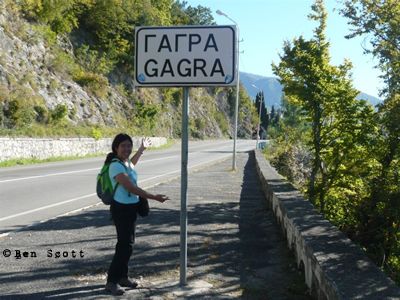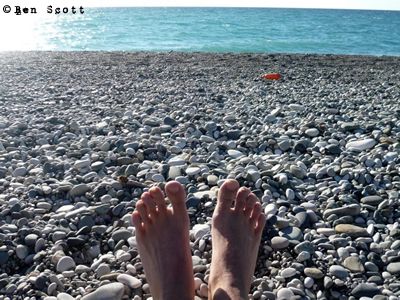 We visit the monastery and waterfall at Novy Afon, look admiringly at the towering mountains, deep blue sea and palm trees, and feed bread to adorable kittens while ignoring the swans which glide across the impossibly scenic lake.
Novy Afon Monastery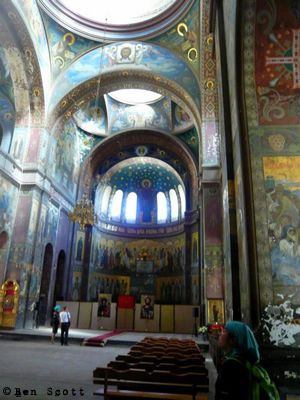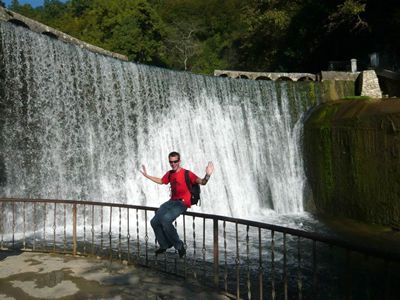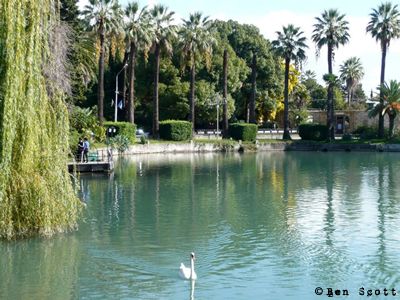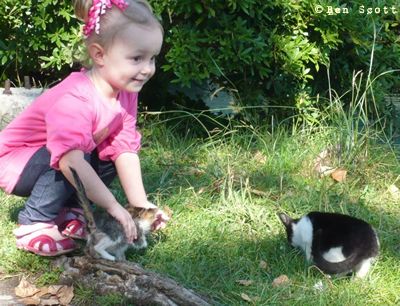 Bombed-out buildings are impressively juxtaposed against idyllic park and mountain backdrops.

For the tourist seeking new holiday horizons, all seems perfect.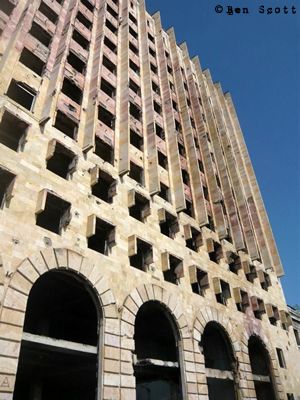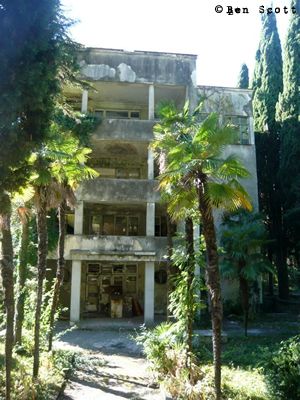 But something just doesn't feel right about Abkhazia.

It's not just the knowledge of what happened here, the horrific ethnic cleansing of Georgians and the atrocities committed during the war.

It's not even the inconvenience of being unable to withdraw cash, or the inflated prices and inferior food.

The sun beats down strongly even in late Autumn, but there is little of the warmth of Georgia here.

People have been nice, and on a few memorable occasions even friendly, but there is none of the vitality and joy of the other side of the river.

There is tension and people keep their distance.

Post-Soviet service standards seem to be the norm.

No more free wine and smiles.

No more 'where are you from and do you like my country?'

Taxi drivers quote absurd prices with a predatory gleam in their eyes.

There is sometimes laughter at my attempts at speaking Russian – and not kindly jest.

A man kicks a cat and people tease the monkeys.

Neither W nor I can shake the feeling that there is something bad in the air here.

Yes, the palm trees are beautiful, the snow-capped mountains towering, the beaches nice to look at, and the vegetation luxuriant.

And yes, we have had the pleasure of meeting some charming, friendly people like the wonderful Lika.

But, however much it markets itself as such, something tells me that Abkhazia needs to do more to make itself the holiday paradise it aspires to be.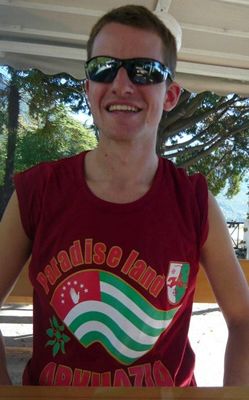 The taxi driver who meets us at the Georgian side of the river-which-may-or-may-not-be-a-border gives us a fair price, and we chat in broken Russian.

As we talk property prices, work and food on the short drive to Zugdidi, I begin to relax for the first time in days.

We are back in Georgia.

Back on holiday.