Elista, capital of the Republic of Kalmykia, world capital of the noble game of chess and largest Buddhist city in Europe (not that there are that many places vying for that accolade), ranks highly among my list of 'Biggest Travel Disappointments.'
For this, I blame Daniel Kalder and his book 'Lost Cosmonaut' (reviewed by DT here). Having read it a few years ago, long before I had ever set foot in the Former Soviet Union, his description of the Kalymk capital conjured up images of an absurd wasteland on the sad periphery of Europe, trembling under the megalomania of a chess-loving, enemy-assassinating dictator while slowly disintegrating into the dust of the endless steppe surrounding it. I enjoyed the book and its description of Kalymkia, and was intrigued by idea of a Buddhist enclave within Europe which was obsessed with chess and had nothing of any consequence to offer the world. Although then an armchair desolationist as yet uninitiated to the joys of travel in the fringes of the Soviet empire, the book sparked my imagination and never faded from my memory.
Last spring, I spent a week in Southern Russia visiting a colleague. I was staying in the small industrial city of Volzhskiy on the outskirts of Volgograd. It was my first (and so far only) trip to Russia, and a quick glance at the map showed that the city of Elista was only a hop, skip and a jump away across the steppe. I couldn't conceive of any circumstance where I would only be 2cm. from Kalymkia again (although 2cm. on a map of Russia transpires to mean a five hour journey each way), and so naturally I decided to go. On a day trip.
Ten hours of travel to spend two hours at a destination might seem absurd, and that would be because it is. Fortunately, my friend found some others who were happy to make the trip, and so I caught a lift with them. The scenery on the journey varied between monotonous green and brown grasslands and the back of my eyelids as I was bored into unconscious inertia. One highlight was passing through a village populated by emigrants from the Caucasus, where signs advertised delicious Georgian, Chechen and Azeri food. Unfortunately, I was travelling in a car full of local Russians, who were horrified by the idea of stopping at a place where 'the people aren't even from this country.' This was distressing, as I love khachapuri, and having it surrounding me but being unobtainable was a form of psychological torture. Besides that one village, and a brief stop for a domestic dispute between two of the car's passengers, there was just more grass of varying shades of brown and green. I came to the conclusion that steppe is not among my favoured landscapes, and that the best remedy is sleep. Which is hard to do in a car with dodgy suspension and no air-con in 40 degree heat.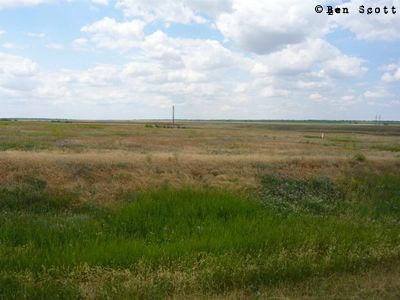 Elista itself wasn't worth the trip, although that's not to say that I'm not glad I didn't go, or that I would discourage anyone else from making the journey if they just so happen to be in the area (the chances of that happening are, I suspect, slim). It's quite a pleasant, tidy-looking little Russian city with a couple of (obviously new) pagodas and Buddhist-themed statues/kitsch/crap, a huge (new) Buddhist temple and a few Asiatic-looking people walking around speaking Russian. If foreign tourists were ever to descend en masse to Kalmykia, they might bemoan the lack of 'authenticity' without realising that this is in fact as authentic as it gets. The Kalmyk are a Buddhist people, but they are also Russian and European. Expecting a Soviet Shangri-La would be ridiculous. My Russian car-cohabitants were unimpressed, walking morosely in the wrong direction around the temple to the consternation of the Kalymk praying inside.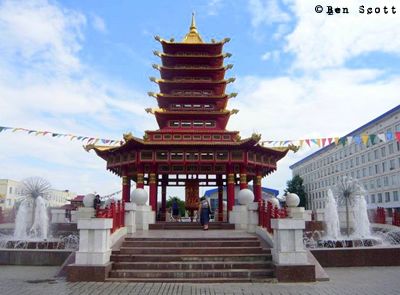 The much-touted 'Chess City,' a ridiculous project created by the aforementioned dictator on the outskirts of Elista, was disappointingly low key. The megalomania I had been promised wasn't as evident as I had hoped, the place looking to me like a chess-themed industrial estate on the outskirts of any provincial town.
We didn't go to the restaurant which purported to serve wolf meat, as our two hours were up and it was time for the long journey back home.
We had seen all there was to see.
I expected desolation in a savage, absurd wasteland, and instead I found mediocrity with a few bits of Disneyfied 'Asia' scattered around. Perhaps Elista was once as described in the book, but now it feels much closer to the Russian mainstream, with the addition of a Mongolian consulate and giant golden temple. If one searches for desolation and doesn't find it, then arguably the purpose of the trip has been accomplished. I was searching for the Elista that Kalder described – an Elista which, if it ever existed, seems to have now moved on. I'm glad for the Kalymk people, and I'm happy to have seen the reality for myself. But I can't help but think two hours in Elista is an hour too long.
And that I really, really am not a fan of steppe.